this is just a few bits I've picked up over the past couple of weeks!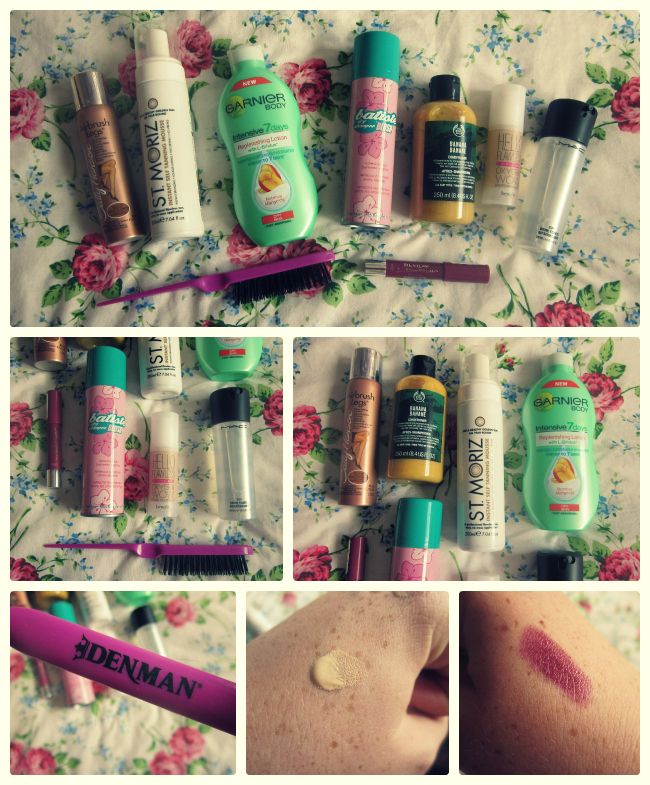 Sally Hansen airbrushed legs:
I used this for
prom
/on holiday and i really liked it so I picked up another one!
St Moriz tanning mousse:
this is super cheap and I love it! This is at least my 3rd bottle I think
Garnier 7 days intensive moisturiser
I love this moisturiser, I reviewed it here if you're interested
Batiste dry shampoo in 'Blush':
I haven't tried this scent before so when it was in offer in Boots I picked it up as my other one has almost ran out
The Body Shop banana conditioner:
this is my third bottle of this I think and I love the stuff! If you're not a banana fan I wouldn't recommend it (duh) but it smells really good!
Benefit Hello Flawless foundation:
I had been wanting this for a while so I'm glad I finally have it! It's good but nothing to write home about I guess!
Mac Fix+:
I've also been wanting this for a while after seeing it in
theuglyfaceofbeauty's videos
. I haven't really used it properly yet, but it smells alright!
Denman teasing comb:
I've been on the look out for a teasing comb for a while because I've been wanting to do fun poof(?) things with my fringe and after a bit of googling I found out that this seems to be the best one! So far, so good!
Revlon just bitten kissable balm stain in 'crush':
anyone else sick to death of hearing about these yet? After everyone and their mum (my mum included in this...) chatting about these I FINALLY picked one up. The colour is quite 'vampy' and I know it's going to look good in winter (yes I'm talking about winter already...) I tried it on and it goes well with my brown hair/eyes and because it's a stain it stays on for a long time too! Wooo
So that's everything! I'm sure there's stuff which I have forgotten but I can't think of anything at the moment...
I have a super busy week coming up this week (off to London Monday-Wednesday, GCSE results Thursday, off to Manchester Friday- Tuesday) so sorry if I'm a bit absent on here but I will try my best!
I love reading haul posts, have you done any recently? Leave a link in a comment!